We utilize the charisma
of nature to deliver
tranquility, sentiment,
and smiles to our clients.
What we offer
We offer total support to enliven people's lives with nature.We at Seibu Landscape passionately work to create every detail of a healthy, green space you can feel comfortable in, giving it added charm, while acting as your one-stop-shop for conceptualization and design, landscaping, maintenance management, administration and operation, and planning and publicity services. We also offer our clients complete satisfaction and the grounds for communities to heighten their value in society. Seibu Landscape works in the development of charming communities with a rich chemistry between people and nature.
What we do
Conceptualization and design
Seibu Landscape offers the conceptualization and design of high-quality landscaped environments through its technological capabilities with an extensive track record in the modification of neighborhood residential environments, urban environments, local scenic landscapes, open spaces, and more as well as its expertise in the administration and operation of an array of green spaces in parks and other similar establishments.
Landscaping
From the large-scale redevelopment of cities to projects with parks; residential environments; commercial establishments; resorts; educational, welfare, cultural, and art establishments; and those of a national scale, we bring to the table our expert landscaping techniques and management capabilities backed by accomplishments in a number of different fields.
Maintenance management
We provide a new kind of maintenance in the form of managing the upkeep of healthy, natural landscapes and renovation work in tandem with the life cycle of nature. We additionally offer support in gaining certification with systems recognizing exceptional landscaping, which measure the amount of contribution to local society and urban environments.
Administration and operation (PPP/PFI)
In 2005, Seibu Landscape jumped headfirst into the business of managing public facilities with the Designated Manager System, actualizing total management and heightening the value of those facilities. We make use of our extensive track record in the administration and operation of urban parks and other such places around Japan and continue to actively take up the gauntlet with PPP (Public Private Partnership) and PFI (Private Finance Initiative) businesses.
Planning and publicity
We handle the planning and operation of points of development for regional exchange and revitalization as well as different events and programs at educational and other institutions. We are also active in corporate branding, the formation of inner communication, attracting clients, and other internal/external corporate publicity and public relations services.
Technology and solutions
Specialized greening

Seibu Landscape creates through its specialized greening technology new kinds of green spaces which tie into the improvement of urban environments. We offer proposals which create green spaces that match the client's needs by combining our myriad of technologies.

Environmental restoration

Our contemporary methods of large-sized tree and topsoil block transplantation provide total support with the conservation, creation, and restoration of various green spaces—from nearby green areas to forest environments.

Turf management

We scrupulously manage the grassy areas of parks, hotels, and other such clients, to maintain their beauty. Let us show you our proposals from the layout to the enforcement of high-quality, safe, and energy-efficient maintenance management with the implementation of automatic mowers.

Environmental material manufacturing and sales

Seibu Landscape's expertise allows for the realization of resource circulation by effectively using the previously discarded soil produced in water purification as a material in planting soil and more.

The Passing on the Nature of Your Community environmental education program

This environmental education program utilizes the features of honey bees in addition to raising honey bees in parks and encourages regional alliances and regional development by creating products from the harvested honey.

The Learning about the Environmental Issues of our Earth environmental education program

This environmental education program educates people on the environmental issues of our Earth in a fun way using a course set up in Showa Kinen Park (located in Tachikawa City, Tokyo), based on the concept of the Furano Nature School, run by author So Kuramoto.
About us
Group-wide expertise
As the Seibu Group's expert company in landscaping and greenery business, Seibu Landscape has expanded throughout Japan as a one-stop-shop for conceptualization and design, landscaping, maintenance management, administration and operation, and planning and publicity services while devoting all of its faculties to urban development with a rich chemistry between people and nature.
Seibu Landscape Group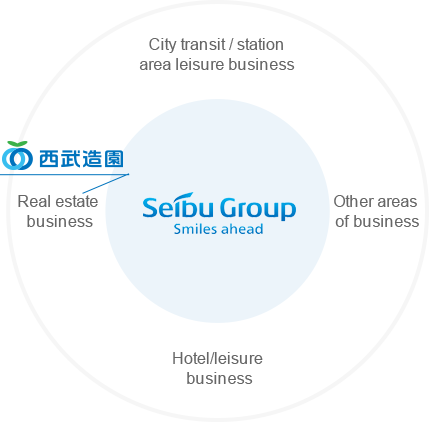 Company details
Name

Seibu Landscape Co., Ltd.

CEO

Satoshi Oshima, president and CEO

Established

Feb 15, 1951

Main store

1-16-15 Minami Ikebukuro, Toshima-ku ,Tokyo

Headquarters

5-1-34 Nagasaki, Toshima-ku, Tokyo

Capital

360 million yen

Areas of business

■ Specialized construction business
Holder of license #9692 from the Minister of Land, Infrastructure, Transport and Tourism (Specialized construction business license, granted 2016)
Licensed areas of business:
Landscaping, civil engineering, construction, scaffolding and earthwork, masonry, electrical, tiling/bricking/blocking, paving, waterworks

Holder of license #9692 from the Minister of Land, Infrastructure, Transport and Tourism (Specialized construction business license, granted 2019)
Licensed areas of business:
Demolition

■ Seibu Landscape Co., Ltd. Senior Registered Architect Office
Holder of license #23718 from the governor of Tokyo

■ Construction consultant
Registered construction consultant #5085, registered 2018

Certifications

■ Certified as a "corporate advocator of diverse work styles" by Saitama Prefecture
Certification grade: Platinum +
Certified: Dec 1, 2019
Valid: Until Nov 30, 2024

■ Certified as a "company promoting work-life balance" by Toshima City, Tokyo
Certified: Jan 27, 2023
Valid: Apr 1, 2023–Mar 31, 2025
Offices
Headquarters

5-1-34 Nagasaki, Toshima-ku,
Tokyo 171-0051
Phone: +81-3-4531-3600  
Fax: +81-3-4531-3610

East Japan Regional Headquarters

5-1-34 Nagasaki, Toshima-ku,
Tokyo 171-0051
Phone: +81-3-5926-5600  
Fax: +81-3-5926-5666

Tohoku Sales Office

1-3-2 O-machi, Aoba-ku, Sendai-shi,
Miyagi 980-0804
Phone: +81-22-281-8071  
Fax: +81-22-281-8072

Kanto Sales Office

1-20-4 Kotesashi-cho, Tokorozawa-shi,
Saitama 359-1141
Phone: +81-4-2924-9080  
Fax: +81-4-2939-9824

Minato Sales Office (Shibakoen Office)

2-11-11 Shibakoen , Minato ku,
Tokyo 105-0011
Phone: +81-3-6721-5810 (Minato Sales Office)
Phone: +81-3-6272-5504 (Shibakoen Office)  
Fax: +81-3-6272-5827(Shibakoen Office)

West Japan Regional Headquarters

3-12-15 Nishi Nakajima, Yodogawa-ku,
Osaka-shi, Osaka 532-0011
Phone: +81-6-6304-8522  
Fax: +81-6-6305-6815

Chubu Sales Office

1-22-16 Sakae, Naka-ku, Nagoya-shi,
Aichi 460-0008
Phone: +81-52-203-3011  
Fax: +81-52-203-3012

Chugoku/Kyushu Sales Office

5-6-24 Nakasu, Hakata-ku, Fukuoka-shi,
Fukuoka 810-0801
Phone: +81-92-686-7117  
Fax: +81-92-686-7118

Okinawa Sales Office

2-31-29 Oyama, Ginowan-shi,
Okinawa 901-2223
Phone: +81-98-917-5592  
Fax: +81-98-917-5593

DaiyaGate Office

1-16-15 Minamiikebukuro, Toshima-ku,
Tokyo 171-0022
Phone: +81-3-6709-3296

Higashi Kanto Office

2-384-3 Katsushikacho, Funabashi-shi,
Chiba 273-0032
Phone: +81-47-411-5835  
Fax: +81-47-411-5845

Yokosuka Office

2-6-13 Shioiricho, Yokosuka-shi,
Kanagawa 238-0042
Phone: +81-46-827-7228  
Fax: +81-46-827-7233

Shiga Office

3-13-75 Kusatsu, Kusatsu-shi,
Shiga 525-0034
Phone: +81-77-569-4710  
Fax: +81-77-569-4720

Chugoku/Shikoku Office

23-1 Motoujinamachi, Minami-ku,
Hiroshima-shi, Hiroshima 734-8543
Phone: +81-82-207-2396  
Fax: +81-82-207-2397
Location
Headquarters

Floor 2 of the Higashi Nagasaki Seibu Bldg.,
5-1-34 Nagasaki, Toshima-ku,
Tokyo 171-0051
Phone: +81-3-4531-3600  
Fax: +81-3-4531-3610
Just outside of Higashi-Nagasaki Station's North Exit on the Seibu Ikebukuro Line